Exhibitions Crucial To Find Right Sourcing Partners For Business – Study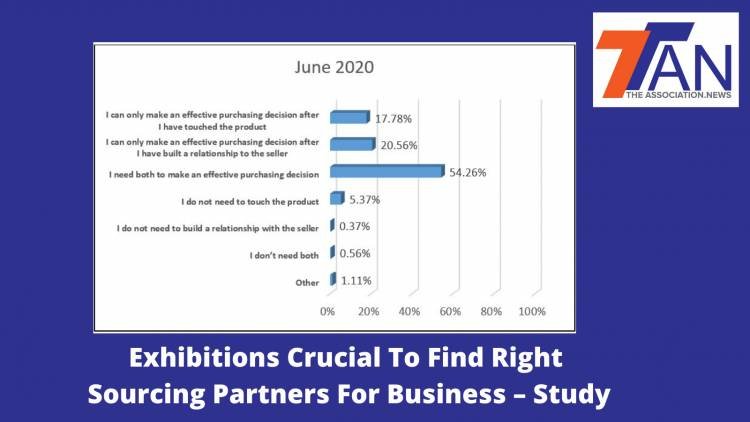 THE ASSOCIATION NEWS, INDIA, 8 Oct 2020
Study: Over 90% of respondents affirmed that trade fairs enable them to touch-and-feel the product as well as to build a relationship with the seller which are key factors for making an effective purchase decision
Assessing the impact of the pandemic on industries, the biggest challenge businesses will face is business continuity as several industries are reeling under the effects of a disrupted sourcing and supply chain. According to a study conducted by Messe Frankfurt Trade Fairs India Pvt Ltd, those who held off purchases do so no longer due to cash flow issues - a prime consequence of the pandemic in the earlier months, but rather because they can't find the right suppliers.
A market survey of more than 1,000 professionals from across the country was conducted in June 2020 & September 2020 to examine the shifting business climate and the state of mind of the most senior buyers at Messe Frankfurt India trade fairs during this period. The key objective of the 'Senior Management Survey' was to gauge the business and purchase behavior amidst the pandemic that has affected businesses of MFI stakeholders and the cross-collaboration that Messe Frankfurt India can enable through its virtual tools through an emphasis on sourcing alternatives or the need and intention to visit exhibitions for trading.
The study covered a wide range of industry sectors from the automotive, textiles, building technologies, and consumer goods, showing that 88 percent of respondents relied on exhibitions to help them with their purchase decisions. Over 90% of respondents affirmed that trade fairs allow them to touch and feel the product as well as to build a relationship with the seller which are key factors for making an effective purchasing decision.
While there has been a strong shift with regards to the purchasing behavior from June (53%) to September (63%) with a rise of 10 percent in purchasing activity, most buyers cannot find the right suppliers while others cannot find stocks (12.97%), cannot import (13.81%), as per company policies (20.08%), or would like to wait for exhibitions (24.27%). Even as other sourcing alternatives such as online events, webinars, and WhatsApp are picking up, 59% of buyers are finding it difficult to make purchasing decisions during Covid-19. As purchasing activity has increased across the board, willingness to attend exhibitions also saw an increase with respondents looking at visiting the next exhibition " as soon as possible" registering the highest increase of 10 percentage points.
In this regard, the role of the Exhibition industry will also become much more significant in terms of rebuilding customer connections, supporting the exchange of knowledge and technology as well as restoring business continuity and growth in the economy. Given the current environment and the increased intent of visiting trade fairs, Messe Frankfurt has been strongly focusing on developing standard protocols and a framework for enhanced measures for hygiene and safety at their Exhibitions and Conferences in India.
It was also interesting to note that - while only 16 percent of respondents attended online exhibitions in June 2020, this trend has quickly shifted to 29 percent in September 2020 showcasing that hybrid exhibition will play a vital role in the future. Mr. Raj Manek, Managing Director, Messe Frankfurt Trade Fairs India Pvt Ltd shared: "Technology will play a significant role in enhancing the experience of physical exhibitions in future, so as organizers we are using this as an opportunity to build our digital tools more rapidly and open up new avenues for a business that can intelligently complement our existing trade shows.
As a group that has been into the trade fair business for centuries, we strongly believe that business relations and personal encounters at exhibitions will be irreplaceable but offering a hybrid platform will become a standard feature at our physical events so that we continue to enable our customers to expand the reach and transform virtual connections into face-to-face interactions."
Known for its trade fair history of 780 years, Messe Frankfurt is the world's largest trade fair, congress, and event organizer with its own exhibition grounds. The Indian subsidiary, with a portfolio of 20 trade fair brands and over 30 conferences, hosts some of the country's leading trade fairs such as LED Expo (Mumbai & Delhi), Light India, Media Expo (Mumbai & Delhi), Techtextil India, ACMA Automechanika New Delhi, Rail India conference, NGV India Summit among others, covering the automotive, automation, lighting, technology, textiles, consumer goods, entertainment, media and creative industries.
Globally, Messe Frankfurt has 'restarted' exhibitions with the opening of Intertextile Shenzhen Apparel Fabrics and Yarn Expo in July 2020 in China and the Summer Nordstil in September 2020 in Germany. "The survey results also go on to show the crucial role exhibitions can play in enabling Indian businesses to find right sourcing partners amidst the current environment and more so in the post-covid era." concludes Manek.
The government of India has issued new guidelines under Unlock 5.0, allowing Business to Business (B2B) exhibitions to resume with effect from 15th October 2020, with new SOPs as issued by the Department of Commerce.